Shibari - personal development and alternative sexuality
What is Shibari
The word "Shibari" means "to tie", so it is a fancy word for tying one's partner, just like the English word "bondage". But the Japanese added more unique angle to it. One can consider it as an erotic art form. A non-sexual way to have an incredibly intimate experience. Or seen from the stressful life of a Japanese: It is an unheard of luxury to be able to take an entire evening and just relax and enjoy. A kind of erotic tea ceremony, with rope and present.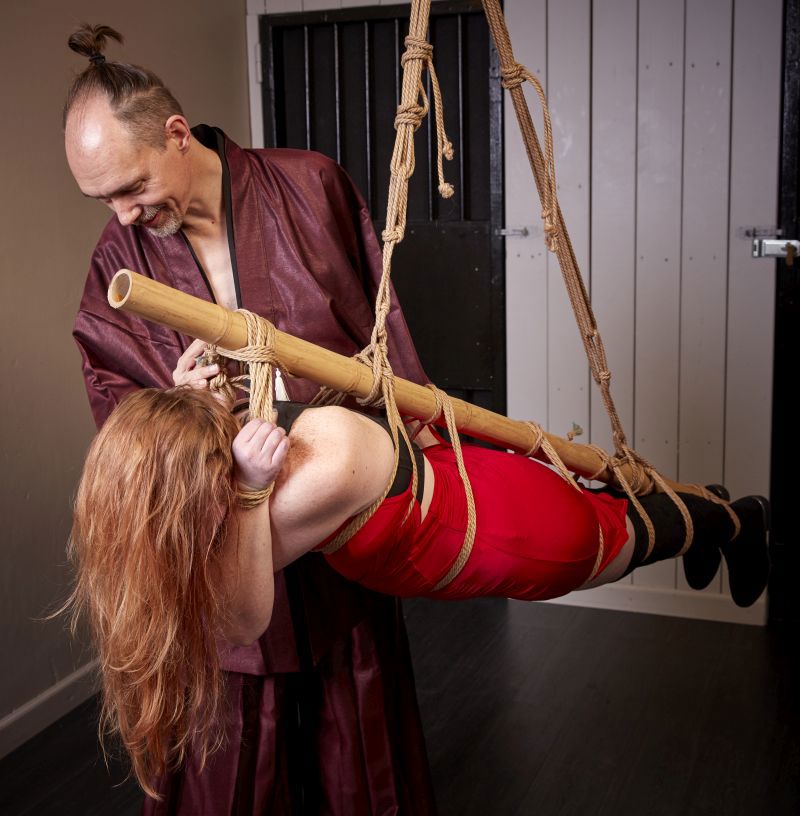 I have experienced that many Tantra people are attracted to Shibari in this gentle style. Hours of foreplay, and filled with energy, without coming physically, is typically what Tantra people try to achieve.
At the other end of the spectrum of what is possible, Shibari is a form of Bondage and is part of the BDSM community, where those letters stand for: Bondage Dominance Submission/Sadism Masochism. That is, between partners it can involve sex, as well as pain and much more that the partners may have as turn on to receive and give.
But even though Shibari can end up with a whole lot of other good things, the focus on the road in its own right is constantly maintained. - each rope is added with emotion. Like a dance where one party leads the other. Dance is its own goal and its own enjoyment.
Why Shamanism?
I (Allan) have also studied some other alternative things, but Shamanism has been the one that spiritually comes closest to what I feel works right, both in goals and behaviour for the one who heals, and therefore it is primarily shamanism in the Inca tradition, and their approaches that I will use as my foundation, as I now try to help others.
There is no other fine psychology education or industry association to complain to - but you will always be welcome to complain to and seek support from my partner. We are a bit of opposites in personality, so there is a good chance that one of us will be able to carry you, or we can find another alternative to refer you to.
Conversely, we also have no duty to heal, and in Shamanism we have also the duty to reject those whom we do not ourselves believe can help. It often requires that we ourselves have healed similar wounds in order to be able to help others.
Why mix sexuality and healing?
Since his teenage years, Allan has always had desires that felt different and harder to talk about. But now, instead of having secrets, Allan teaches others what he used to think was so hard to get out of - his fetish and love of rope, in the form of Shibari and bondage in general.
I see others with the same starting problem (whether you are over 60 or just 18 when you acknowledge your desires), or who cannot get the desires expressed, or who are struggling with other personal issues where they feel their sexuality is coming across. And I would like to offer help with that, bypassing the official bureaucracy. The help I myself missed when I started.
Whether it involves Shibari or not is not so important - it's just my core expertise in the kinky universe that I want to give something back to. And whether you want to use my kinky side or not, it gives you a healer who accepts your sexuality as you are.
The healing part can then consist of everything from simply listening to an actual Reiki healing (which in itself can be very de-stressing) or a Shamanic healing (which purifies the spirit and allows to ease some of the front page disappointments, perhaps in the hope of starting a new chapter in your life). 
Or it can be personal development, in the form of help to get started with your own sexuality - erotic mentoring in the form of basic teaching to a top or bottom, or individual help to find out what is you, so you afterwards with increased confidence can go out and find a partner to cultivate it with.
What does erotic mentoring cost?
Traditionally, shamans were given a gift commensurate with the person's means. Like something that represented the problem the person wanted to be healed, as the gift is part of the healing. So the answer could be: What you think is worth it!
But for those who can afford it, Allan's session starts at DKK 400.
Teaching (solo / couple / group), adapted Shibari / BDSM sessions and possibly longer course, we will probably have to agree on what the price is before we start, so we do not start something that costs until we are both aware of whether a gift or an agreed price is just expected.
How about learning Shibari?
Yes, if that is the kind of mentoring you need, I can teach you privately.
How do I get it?
Write an email to: [email protected], or an SMS to mobile: +45 60 66 03 80 (have other work, write SMS or email first and Allan calls or writes back).
Include a few words about you yourself and what you are looking for healed or getting worked on (or whether you want to be the sample cloth for one of our new things) and then Allan will contact you.